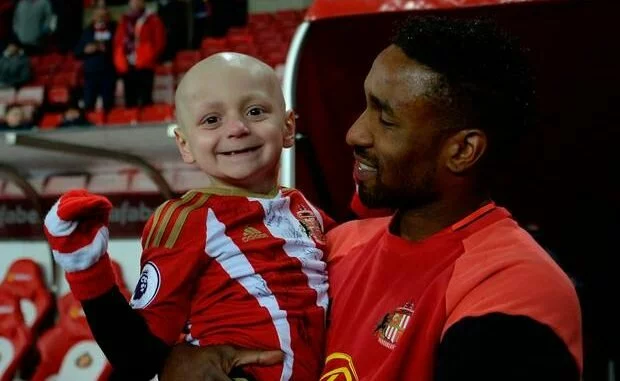 Defoe has been hailed a hero on Wearside since his stunning volley against rivals Newcastle United in April 2015, a goal which sparked yet another Sunderland great escape. He was further granted hero status on Wearside after helping Sunderland, guided by soon to be Sam Allardyce perform another escape and relegating arch-rivals Newcastle United in the process.
The 2016/17 season started out in a familiar fashion for Defoe, he again scored goals in a hapless Sunderland team, but there would be one little five-year old superhero from nearby colliery town, Blackhall that would change Defoe's, the nation and the worlds lives forever.
It all began on a dark, September night on Wearside – Romelu Lukaku netted an eleven minute hat-trick which consigned Sunderland to yet another defeat, leaving them on just one point and languishing in 19th place. However, there was a shining light at the Stadium of Light that night, 5 year old, Bradley Lowery, the cheeky chappy made his first appearance on the world stage and captured all of our hearts.
Bradley was diagnosed with Neuroblastoma when he was just 18 months old (It's a credit to Bradley's fight and the work that Bradley's parents have done that we all know what the disease is). Bradley's parents set up a fundraising page in the hope to send Bradley to America for lifesaving treatment. For exposure for the cause Sunderland AFC invited Bradley to be mascot for their Premier League game with Everton.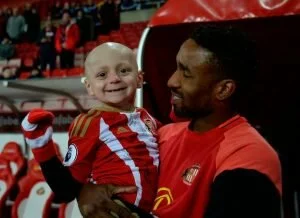 Bradley led his beloved club out with Defoe that night in front of the Sky Sports cameras and the exposure Bradley's fight gained was phenomenal, it showed the good the beautiful game can do for our society. The aim was to raise £700,000 and kindly Everton donated £200,000 which helped the Bradley meet his target. A gesture that reverberated around the football world and stood Everton in the highest of respect.
Bradley was invited back to the Stadium of Light for Sunderland's fixture against champions elect, Chelsea. The exposure for Bradley's fight was again, massive. Bradley completed every child's (and adults) dream and scored on his beloved teams hallowed turf, Bradley even managed to claim joint goal of the month with Henrikh Mkhitaryan of Manchester United. A smiling Bradley was filmed running into the Sunderland dressing room and shouting for Defoe, Defoe waves him over where Bradley then sits on his lap and they talk football. The inseparable pair then go onto the pitch for a kick about and Bradley is seen in Defoe's arms. I'll let the video do the talking.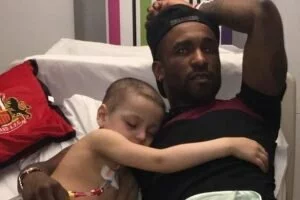 Defoe really has gone above and beyond for Bradley to make his last year special and he must be a shoe in to win the SPOTY award. Yes, there have been so many sporting achievements that have eclipsed Defoe, this year, but has any one sportsman showed personality, a willingness to help and go that extra mile more than Defoe? Defoe led the England team out with his best friend, Defoe surprised Bradley over Christmas, with presents and cards and Defoe also joined Bradley on his birthday bash to celebrate his sixth birthday.
His teary press conference for AFC Bournemouth after Bradley passed away was heartbreaking, you really felt the bond that the two had created and the closeness of the pair. Defoe today attended Bradley's funeral, wearing an England shirt with his hero's name on the back.
The current favourite for the award is Anthony Joshua, Joshua has achieved a lot in 2017 but Defoe's bond with Bradley has touched us all and it's managed to bring the nation together – whilst raising awareness of Neuroblastoma. Bradley Lowery and Jermain Defoe have shown what good can happen through sport. Today, we saw the streets of Bradley's hometown filled with thousands of people all wearing football shirts, from Newcastle to Sunderland to Wolves to Tottenham – everyone came together. Surely the SPOTY award should be going to Defoe and Bradley for their fantastic work of raising awareness through sport in 2017?
I, personally, could think of no-one more deserving.