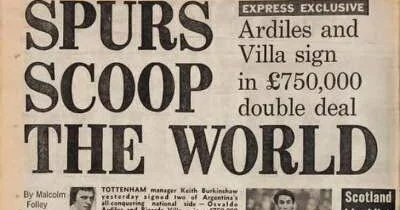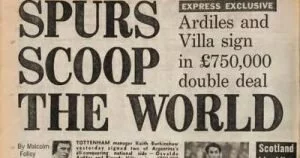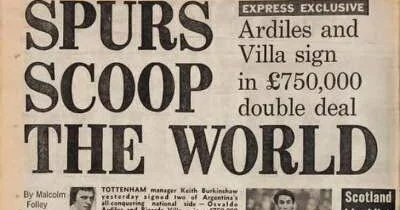 Tottenham Hotspur, one of the biggest names in English football had slumped to a new low in 1977 when they were relegated from England's top flight. A Spurs squad featuring the likes of Pat Jennings, Steve Perryman and Glenn Hoddle managed to clinch 3rd place on goal difference to gain promotion back to the top flight – they came back with a bang.
It was the 10th of July 1978 when Spurs shocked the world. John Travolta and Olivia Newton John were at number one with 'You're the one that I want,' and Brian Clough's Nottingham Forest were the champions of England. 15 days previously Argentina had just been crowned champions of the world, defeating Holland in extra-time in the World Cup final inside the Estadio Monumental, Buenos Aires. The star-studded Argentinian team included names such as Mario Kempes, Daniel Passarella, Osvaldo Ardiles and Ricky Villa.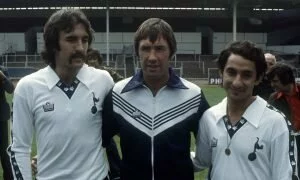 In those days a 'foreign signing' was a player who'd have come to England from Ireland, Scotland or Wales, so when Spurs announced the double-signing of Osvaldo Ardiles and Ricky Villa, the nation and the world were shocked. There were no rumours or murmurs of the sensational double deal, manager Keith Burkinshaw managed to keep the £750,000  transfer under wraps – something that these days would be impossible to do.
Spurs fans instantly took to the Argentinian duo, Villa made an instant impact, scoring the equaliser in a 1-1 draw against reigning champions Nottingham Forest. On their return to White Hart Lane Spurs fans organised a traditional South American ticker-tape welcome for the league game against Aston Villa to make Ossie and Ricky feel right at home. The Villains spoiled the day with a 4-1 win. The duo would enjoy success at Tottenham, they finally brought the FA Cup back to White Hart Lane after 14 long years. The first leg of the final against Manchester City finished 1-1, City's Tommy Hutchinson netted at both ends, the replay was won by Spurs by three goals to two, the final will be remembered as the scene for the greatest FA Cup goal ever along with the greatest FA Cup song ever…
Villa stayed at White Hart Lane for 5 years, leaving due to the effects of the Falklands war, Ossie stayed at Spurs until 1988, he won 2 FA Cups and a UEFA cup in his time at Spurs and even went on to manage the clubs in the mid-90s. The two are still seen regularly around White Hart Lane and they will always be fondly remembered by Spurs fans, they even made this song for the duo.
What are your memories of Ossie and Ricky? Comment below.