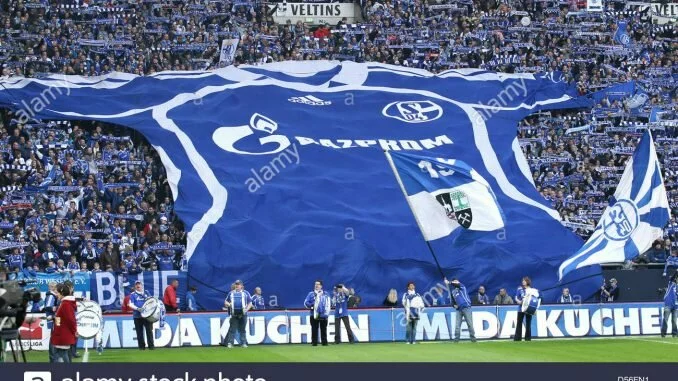 Over 60,000 Schalke fans pack the stunning Vetlins Arena week after week and tickets can be hard to come by. Having visited Schalke on numerous occasions I will take you through my guide on how to purchase tickets without using resale platforms such as Viagogo or Stubhub. Of course, for big games against Bayern Munich and Borussia Dortmund sales very rarely make it past member sales – making general sale pretty much impossible.
Here are our tips on buying Schalke 04 tickets at face value
1) Go to Schalke's ticketing website and create yourself an account, this will make the purchasing of tickets quicker and easier.
2) Check the on sale dates of your tickets, Schalke offers tickets out to members before general sale so don't get the members sale confused with general sale. Note that the time will be in German time (usually 8am GMT). Matches and information will be available here. 
3) Do a test run – As you'll be booking tickets in advance you'll have the chance to test the site out with a game that you won't be attending, this will give you a better idea of the ticketing process so when the time comes to buy tickets for your game you'll be well prepared.
4) I always recommend loading the ticket-site up in multiple browsers around 10 minutes before the on sale date. As soon as the clock strikes 8am refresh the page and search for the number of tickets you want. Unless it's a high profile game you should manage to get seats together at Schalke quite easily.
5) You didn't get tickets? What to do? Don't panic! If you don't manage to get tickets straight away, just kept refreshing the page and tickets became available when other buyers have timed out and lost tickets.
6) If you were successful in purchasing your tickets then Schalke send your tickets to the UK for a small fee, the tickets normally take around 5 working days to get to your UK address. Remember, your match ticket also acts as your train travel, for example you can travel from Dusseldorf to Gelsenkirchen for free on your match ticket – please note that you can only use Regional trains, not intercity trains and you must be travelling on transport inside the VRR area.